Introduction
The Dataverse Software APIs allow users to accomplish many tasks such as...
creating datasets
uploading files
publishing datasets
and much, much more
... all without using the Dataverse installation's web interface.
APIs open the door for integrations between the Dataverse Software and other software. For a list, see the Integrations section of the Admin Guide.
API stands for "Application Programming Interface" and an example is the Dataverse Software's "file upload" API. In the diagram below, we can see that while users can click a button within Dataverse installation's web interface to upload a file, there are many other ways to get files into a Dataverse installation, all using an API that allows for uploading of files.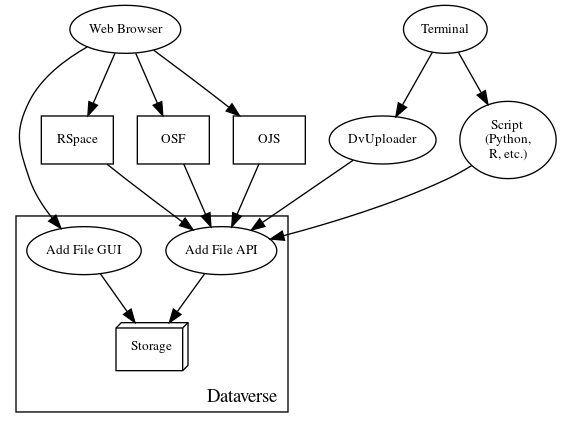 The components above that use the "file" upload API are:
DvUploader is terminal-based application for uploading files that is described in the

Dataset + File Management

section of the User Guide.
OJS, OSF, and RSpace are all web applications that can integrate with a Dataverse installation and are described in "Getting Data In" in the

Integrations

section of the Admin Guide.
The script in the diagram can be as simple as a single line of code that is run in a terminal. You can copy and paste "one-liners" like this from the guide. See the

Getting Started with APIs

section for examples using a tool called "curl".
The diagram above shows only a few examples of software using a specific API but many more APIs are available.
This guide is intended to serve multiple audiences but pointers various sections of the guide are provided below based on the type of API user you are.
Each Dataverse installation will have its own groups of people interested in APIs.
The Dataverse Project loves contributors! Depending on your interests and skills, you might fall into one or more of the groups below.
A client library helps developers using a specific programming language such as Python, Javascript, R, or Java interact with Dataverse Software APIs in a manner that is idiomatic for their language. For example, a Python programmer may want to
Starting point A good starting point is the Client Libraries section, followed by the Getting Started with APIs section.
Developers working on the Dataverse Software itself use the APIs when adding features, fixing bugs, and testing those features and bug fixes.
Starting point A good starting point is the Testing section of the Developer Guide.
Dataverse Software API questions are on topic in all the usual places:
After your question has been answered, you are welcome to help improve the Frequently Asked Questions section of this guide.